Daylight Savings Time ends
Don't forget to turn your clock back one hour tonight, November 5.
Elder's Meeting
The Elder's Meeting for this month is to take place next Tuesday, November 8th at 7:00 p.m.  If you have any concerns to bring before the Elders, please see Dave Montgomery.
Men's Choir
The Men's Choir will meet after services today.
J.O.Y. Circles Collection
JOY Circles is collecting much needed items for Mountain Mission School in Grundy, VA. during November. An "items" list will be posted on the JOY Circles bulletin board and placed at the Welcome Center. Please place all donations in the white baskets in the lobby. Your donations are always appreciated!
Annual Thanksgiving Dinner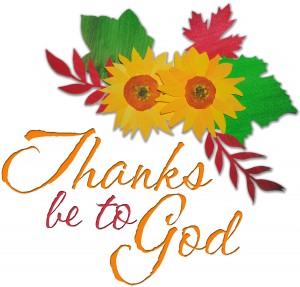 The annual Thanksgiving Dinner will be held on Saturday, November 12th at 6:00 p.m. There will be a sign-up sheet in the foyer for attendance and for food. Please plan on attending and bring a friend, neighbor or family member to share in a great time of fellowship.
Community Thanksgiving Service

Community Thanksgiving Service on Sunday, November 20th at 7:00 p.m.
Hosted by: Bethel United Methodist Church; 513 Spruce Street, Montoursville
Speaking: Jacob Waybright (lead minister at Faith UMC).
Save
Save
Save
Save
Save
Save